National Allergy Council 250k camp for young adults in Melbourne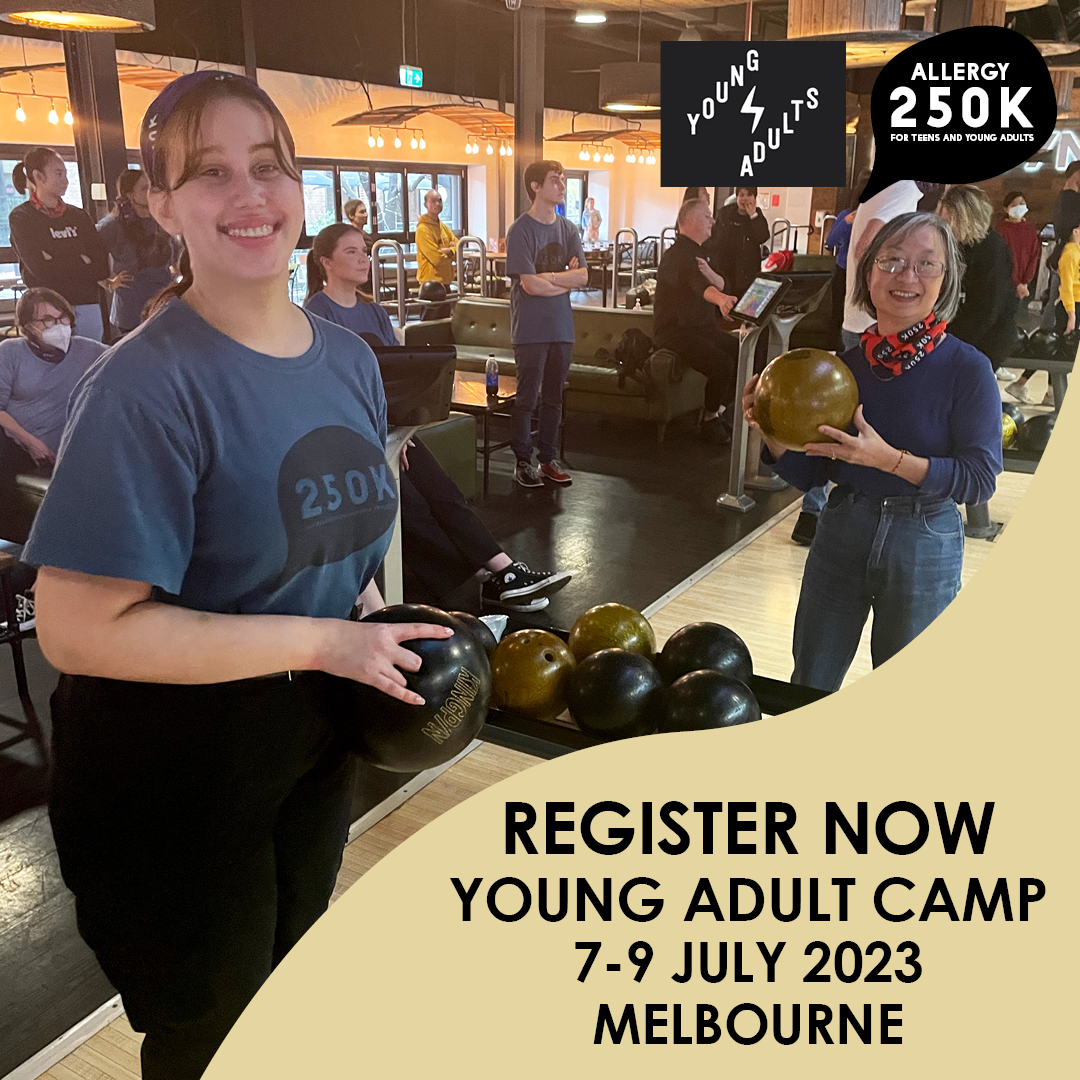 The National Allergy Council will be conducting a camp for young adults living with severe allergy. The camp will be held from Friday 7 July to Sunday 9 July 2023 in Melbourne.
If you are aged between 18 to 25 years and are interested in potentially becoming a peer mentor for the Allergy 250K project, then this camp is for you!
The Allergy 250K peer mentor program connects school-aged teens (mentees) with peer mentors, largely through our school-aged teen camp program. Our peer mentor training is conducted as part of our young adult camps. Regardless of whether you become an Allergy 250K peer mentor, the experience you gain at the camp will be beneficial.
There is no cost to participate in the camp as we have been fortunate to receive government funding for this camp. If you are aged 18 to 25 years, at risk of anaphylaxis and interested in becoming an Allergy 250K peer mentor, you are invited to participate in the camp. If you are from outside Victoria, you can still participate in the camp, however, we are unable to fund your airfares or other travel needs.
Accommodation will be dormitory style. Camp participants would need make their own way to the camp venue on Friday afternoon and then make their own way home on Sunday afternoon.
We are working with the camp catering staff so that everyone with food allergies will be catered for. At least one allergy dietitian will be involved in meal preparation and service during the camp.
Several National Allergy Council and Allergy & Anaphylaxis Australia staff will attend the camp along with an allergy specialist, allergy nurse, and a dietitian experienced in management of complex food allergy.
The format of the camp will be a mixture of team activities and allergy discussions. A full program will be provided to camp attendees upon arrival at the camp.
To register your interest to attend, please email sandra@nationalallergy.org.au by Friday 26 May 2023.
Learn more about the Allergy 250K peer mentor program
See highlights from previous Allergy 250K youth camps
We look forward to seeing you there!